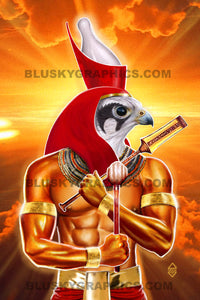 Heru Giclée Canvas Print (Signed and Numbered Limited Edition of 500 Per Canvas Size)
Regular price
Sale price
$ 274.99
---
Heru is the Ancient Egyptian Archangel (Neteru/Archetype/Faculty/Power/Talent) that communicates to man the knowledge of the freedom "of The Will". - i.e., of the Self.
The chief function of the freedom of the Will (The Self) is to enable liberation from the tyranny of emotions, sensuality, and desires - The blind expressions of the energy aspect of being.
Your Will is the chief attribute that separates you from the other creatures. While they must obey the influences, and principles operating in their spirit (Instincts), Man is free to choose, and decide which way he/she wants to go.We must know that although we are free to choose what to follow, we don't have the right to choose whatever we want to do. Only that which is in harmony with all can survive, and flourish.
Heru governs reasoning, circumspection, visual thinking-The Utchat Aakhu, Person In authority, The Father, head of household, management, husband, leadership, masculinity, mindfulness, observation, pride, self discipline, testosterone, Insight, freedom.
His name is Horus, in Greek, in the Yoruba religion he is Shango, and he is known as Micha-El by the Canaanite (Phoenician/Ugarit) people. He corresponds to the Greek, and Roman God Apollo.

Cultivate the light to see clearly from within, by having this beautiful Image on display.

- Our Limited Edition Giclée Canvas Prints, are professionally produced on fine art canvas, with rich archival inks to intensify the details and beauty of the artwork. A picture that will last a lifetime.

- They are printed with solvent inks to protect against UV and environmental damage. (Do Not Place Giclée Canvas Print Directly In Sunlight).

- Our Limited Edition Giclée Canvas Prints are professionally stretched on a wood frame measuring 0.75 in. thick with image wrapping to the sides.

- This Heru Giclée Canvas Print, is a signed and numbered edition, limited to just 500 copies per canvas size. Order yours today!

What Is a Giclée Print?

Giclée (pronounced zee- KLAY) is a French term meaning to spray or squirt, which is how the technology used to make them works. Tiny droplets of ink are placed with excruciating precision onto the canvas surface. No screen or other mechanical devices are used, and therefore there is no visible dot screen pattern. The image has all the tonalities and hues of the original painting.

The giclée printing process provides better color accuracy than other means of reproduction. Giclée prints are commonly found in museums, art galleries, and photographic galleries.

FREE SHIPPING within the US! International orders, please add $40

Pennsylvania Residents - Sales tax is automatically added to your order.